54th Street Menu
Come and get it!
Jump To Menu Categories
With over 150 menu items, our menu offers something that everyone will enjoy, including tasty made-from-scratch full-sized appetizers, seven salad varieties made with fresh cut produce and housemade dressings, fire-grilled mile high burgers, over fifteen super sandwich selections, three delicious housemade soups, grill favorites and much more.
We also offer quick and flavorsome lunch specials for those who are looking for a fulfilling lunch in a time crunch. If you can't make up your mind on a dish, choose one of our signature menu items and feast on the 'Center Cut' Baby Back Ribs, Chicken Madeira, 'Center Cut' Filet Mignon, hand cut Certified Angus Beef Ribeye, Blackened Atlantic Salmon, Rattlesnake Pasta and much more. Hint, hint...these are our top of the line menu items you won't wont want to miss!
What sets us apart from your typical casual dining restaurant? Well, for one, we are completely family owned. We DO NOT franchise!
OUR MOTTO
"Great food starts with high quality meats and ingredients, fresh produce and meals prepared from scratch. With our amazing range of quality, scratch prepared menu items, we truly have something for everyone. The Five-Four promise is to forever uphold our tradition of serving generous portions of housemade food and drink at an honest price." Sit back, relax and enjoy the 54 Experience.
All of 54th Street's menu items are listed in the left hand menu so find your favorites and let your mouth start watering!
SOUTHWEST
BORDER ATTACK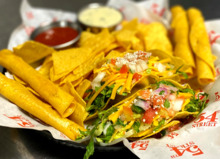 ground beef or chicken tacos [2], baja bites [chicken + cheese in a crispy corn tortilla], tortilla chips, gringo dip, salsa

*only available at KC locations
CARNE ASADA TACO PLATTER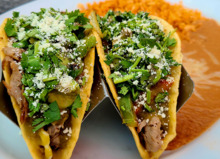 thin sliced CAB® ribeye, sauteed pepper + onion, avocado, serrano drizzle, cotija, cilantro, corn-flour tortillas, rice, refried beans
PACIFIC FISH TACO PLATTER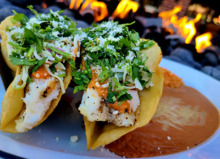 grilled or fried white fish, dressed cabbage, red pepper sauce, cilantro, cotija, corn-flour tortillas, rice, refried beans
SIZZLING FAJITA SKILLET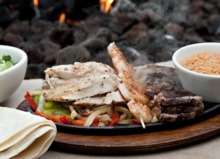 bell pepper, onion, pico de gallo, cheddar, sour cream, salsa (rice or refried beans) (corn or flour tortillas)

sub guacamole for any side item

FIRE GRILLED CHICKEN

SIRLOIN STEAK

SIGNATURE (two proteins) - fire-grilled chicken, flat-iron steak, seared shrimp
---
Housemade Signature Dips
Baby Back Ribs Smoked Daily
Hand-Breaded Chicken Tenderloins + Chicken Breasts
Hand-Breaded Fish, Shrimp + Calamari
Hand-Breaded Country Fried Top Sirloin Steaks
Fresh Cut Vegetable Burger
Hand-Cut Certified Angus Beef Ribeye Steaks
Slow Roasted Ribeye Steak Prepared
For Our Hand-Carved French Dip
High Quality Meats and Seafood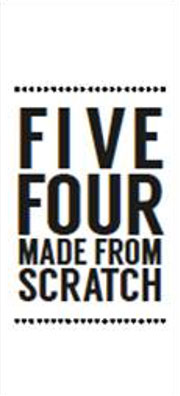 Hand-Stuffed Hand-Breaded Mushrooms
Fresh Corn Tortilla Chips Fried Daily
Authentic HandMade Mexican Fare
Fresh Cut Leafy Greens, Fruits + Vegetables
Sauces + Salad Dressings Made Fresh Daily
Slow-Simmered Housemade Soups
Premium Ground Fresh Burgers
Fresh Poultry Marinated in Our Kitchen
100% Fresh Lime, Lemon, Grapefruit + Orange Juice
Hand-Crafted Cocktails + Sangrias